Writers and Illustrators!
Join Houghton Mifflin Harcourt Senior Designer and Art Director Andrea Miller, and the Picture Book Whisperer Herself, Dr. Mira Reisberg (AKA the Fairy Godmother, and Clear Fork Publishing/Spork Art Director and Editor) for our highly interactive Illustration Course complete with fab fresh Submission Opportunities!
THE FIRST LIVE TRAINING STARTS NOVEMBER 4TH 2019 FOR FIVE FAB INTERACTIVE WEEKS PLUS A BONUS CONFERENCE WEEK! And when we say 5 weeks, that's not a lesson a week – but five jam-packed, time-flexible mentored weeks followed by an instant access week of awesome instruction!
Are you a writer wanting to illustrate your own books or would you like to become a better writer by fully understanding how to leave space for the illustrator and how the process works?
Or maybe you are a beginning or professional illustrator wanting to update your skills to move into new markets?
Whether you're at the stick figure stage or have won awards – you will wildly increase your chances of publication with this course!!!

"Don't think you can draw? Lack confidence? Feel like giving up? That was me. Taking the Craft and Business of Illustrating Children's Books course has given me all the tools I need to take myself towards my dream of publication… [The instructors] are industry professionals with priceless knowledge that is shared openly and enthusiastically with all participants. The broad course curriculum is well-structured with plenty of participant interaction to encourage and support one another. I highly recommend this course to anyone, at any artistic level, who wants the best chance of developing their skills in the picture book industry. Big thanks!" – Kris Sheather (Now Published)
In this course you will learn and practice fun and easy contemporary drawing and color art making techniques while deepening conceptual understandings to create either a picture book dummy (we will help with your story if needed or suggest a public domain story) or wonderful fresh new portfolio in this updated INTERNATIONAL course that has helped launch so many student's careers!!!

Your Loving Co-Teachers
Our 2019 CBICB course is co-taught by 2 acquiring Art Directors, Houghton Mifflin Harcourt Senior Designer and Art Director Andrea Miller, and Clearfork/Spork Editor and Art Director, Dr. Mira Reisberg. Both of them are also published illustrators with MANY years of experience in the field.
Andrea has worked on some wonderful books including these: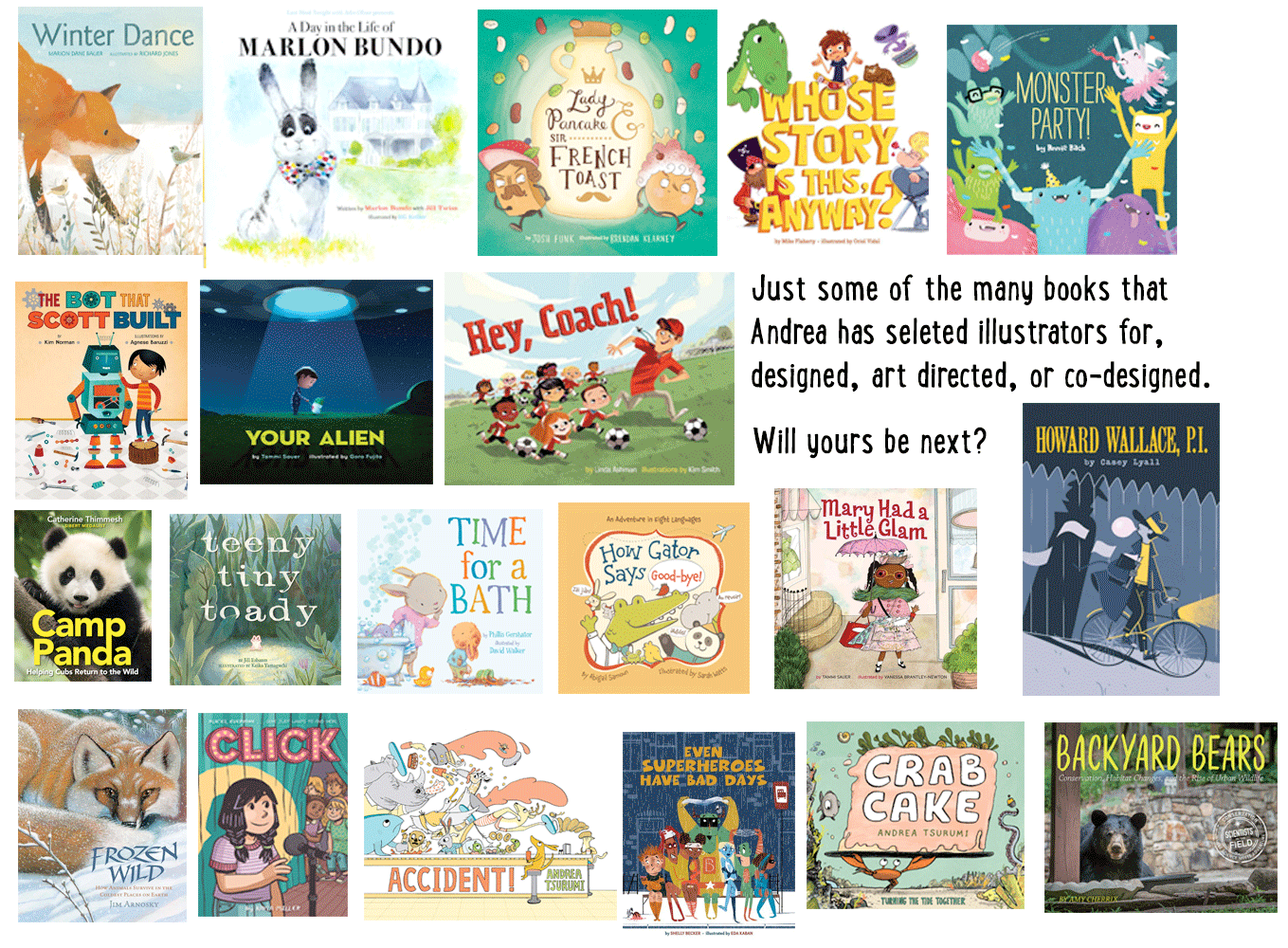 And here are some of the books Mira has worked on:

Andrea and Mira have created some AMAZING content and will be co-leading the weekly LIVE critiques for students. Each week students have the opportunity to present their work and each week a lucky group will receive a critique from either Andrea, Mira, or one of the many WONDERFUL guests in the LIVE (and then recorded) webinars. To be honest, they've got some STELLAR content and talent in this course and are extremely excited!! So stay tuned for a peek at the LIVES and ALL THE GOLDEN TICKET JUDGES who will be revealed soon!!!
Meanwhile, here's a peek at some of your many START TODAY BONUSES!!!



FREE Fun with Photoshop Course Parts 1 & 2 for the FIRST 20 STUDENTS TO REGISTER!
FREE Fun with Social Media Course!
The Craft & Business of Illustrating Children's Picture Books e-Book
The Little Book of Children's Book Illustration Techniques & Definitions
FREE Awesome Web Design with Weebly
FREE 5 Ways of Making Dummies!!!
FREE Hand Lettering & Calligraphy Course
BONUS CONTENT for Creating Your Own Graphic Novels
PLUS! An EXCLUSIVE Insider Video Tour!
Led by Brilliant Chronicle Books Editor Melissa Manlove Who Shows and Tells What Really Goes on in a Major Children's Book Publishing House!
More Fabulous BONUSES Include:
Exclusive Opportunities to Submit to Children's Book Editors, Agents, and Art Directors
Lots of Worksheets, Handouts, Instructions, and Videos for Learning How to Draw (Beginners) and How to Develop New Moves for More Experienced Artists
Children's Literature Art Lesson Plans for Teachers, Moms, and Homeschoolers
Wonderful Technique Demonstrations and Studio Visits From Artists Such as Julie Downing, Ashley Wolff, Yuyi Morales, and Lisa Brown
A FREE Easy Website Building Course
Half-Off Our Upcoming Writing and Illustrating Graphic Novels Course
And more, which will be revealed after you register! Wahoo!!
Here Are The 3 Level and Right Now SAVE $100 with this code 2019ArLove (there is not t in the code)

The BIG BONUS comes with EVERYTHING ABOVE, TONS OF HELP IN OUR INTERACTIVE COMMUNITY AND MUCH MORE and Is Available for the Adventure of a Lifetime! It's normally $557 but for a limited time, if you use the 2019ArLove code exactly as spelled with no t – it's only 457.
---

How often do you get to take an incredibly comprehensive course with a ton of bonuses plus a one-hour intensive hands-on critique with a fantastic major house Art Director?
You don't want to miss out on this amazing opportunity! Just click on the image above. It's normally $657 but if you use the 2019ArLove code exactly as spelled with no t – it's only 557.
---

If You Are Up For a Wild Adventure With the Course, Bonuses and a fantastic one-hour intensive hands-on critique with Mira, (AKA the Picture Book Whisperer and the Fairy Godmother) click the rocket! It's normally $657 but if you use the 2019ArLove code exactly as spelled with no t – it's only 557. ***There Are Not a Lot of These Critique Options Available, So, Sign Up Soon if You Want One!
More details:https://childrensbookacademy.teachable.com/p/the-craft-business-of-illustrating-children-s-picture-books
Talk tomorrow,
Kathy